Skip to Content
Professional Insulation Contractors in Portland, OR
Most homes don't have adequate insulation, which can cause many problems for you and your property. If your home in the Pacific Northwest is uncomfortable, you're finding yourself with exorbitant monthly energy bills, or you've been dealing with constant moisture issues, spray foam insulation may be the solution for you. Contact Westside Drywall & Insulation to learn how we can help you.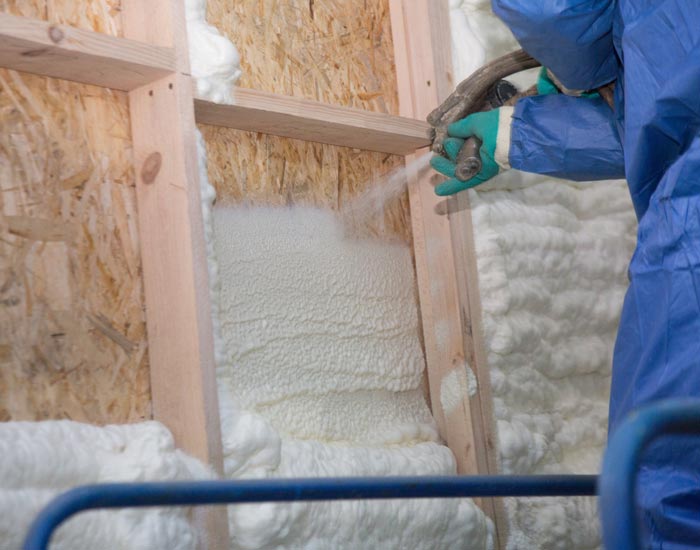 Spray Foam Insulation Benefits
While appropriate amounts of any type of insulation will improve home comfort by ensuring consistent indoor temperatures throughout your entire home, spray foam has some unique advantages over other types of insulation.
Seamless and Versatile Foam Insulation
Spray foam starts in two separate parts that, when combined, expand to fit into any size space before becoming a solid mass. Traditional insulation batts need to be precisely cut to ensure uniform insulation and a radiant barrier, while spray foam can be applied seamlessly everywhere within your home.
High R-value
R-value is the thermal resistance that insulation provides. Spray foam is a high R-value insulation material that helps to keep your home warmer during the colder months and cooler during the summer. You'll increase year-round comfort while also saving on monthly heating and cooling costs.
Air Sealing and Insulation in One
Since spray polyurethane foam is applied as a liquid, it easily seals gaps and cracks. All the gaps and cracks within your home's building envelope add to energy loss, drafts, and even poor indoor air quality. By air sealing using spray insulation, your home will not only be well insulated, but it will also prevent air from readily entering or exiting your home and create much more consistent temperatures – even in attics and upper levels. Our spray foam insulation solutions are more cost-effective than traditional insulation methods and will provide a variety of benefits to you and your household, including:
Enhanced Indoor Air Comfort
Healthier Air Quality
Improved Energy Efficiency
Utility Cost Savings
Reduced Carbon Footprint
Prevention of Pest & Insect Intrusion
Reinforced Architectural Strength
Protection from Weather Elements
Decreased Indoor Air Pollutants
Increased Property Value
And Much More
Experts in Residential and Commercial Spray Insulation
Spray foam is an excellent option for lowering your residential or commercial property's utility bills, increasing your comfort, and improving indoor air quality. Your home will also be more structurally sound and quieter after spray foam insulation. Westside Drywall & Insulation has over 30 years of experience providing advanced insulation solutions to Pacific Northwest homeowners and commercial property managers. Our team of experts focuses on ensuring high-quality work that's always on time and on budget. We stand behind all of our projects and offer our clients a one-year warranty. Not all spray foam insulation companies can say the same.
Since we're not only insulation specialists but also drywall professionals, we can handle your entire project from start to finish, and we'll even take care of insulation removal before applying our closed cell spray foam if needed. Westside Drywall & Insulation will install expanding foam insulation and then put up new drywall so you'll have a comfortable and energy-efficient environment in no time. Is closed cell spray foam insulation the right solution for your home or business? Contact us to learn more or to schedule an appointment today!
Request Your Free Estimate